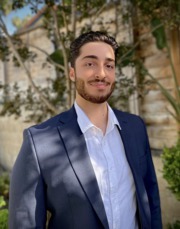 Tony Maalouli spent his childhood moving between the east coast, overseas, and back to the states, where he has called Orange County home for the past 12 years. 
Tony grew to become a car enthusiast and had opportunities to meet luxury car owner's and ask what they did for a living. Almost always they had been real estate brokers and/or investors. Influenced, Tony went on to pursue a degree in Business Finance and adopted his University's network and turned his focus toward real estate. 
With a strong desire to serve Orange County, Tony is well prepared to help you with your home buying and selling needs. He loves sharing his local knowledge to not only help clients find their perfect home, but to plant their foundation and build upon their dream of home ownership. Whether a buyer, a seller, or an investor, Tony likes to think of his clients as family.
As a proud member of REALM Residential, Tony carries the values of hard work, integrity, and outstanding client service into everything he does. He recognizes and values the trust his clients will place in him, and strives everyday to exceed their expectations.